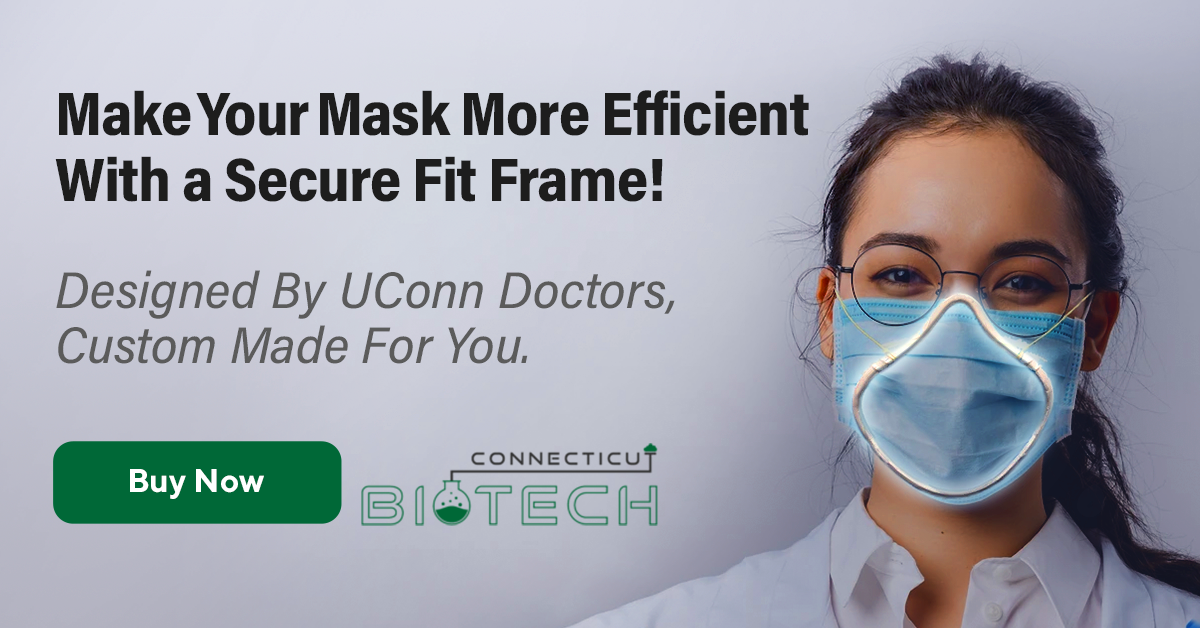 Easy Process

Send us photos of your face.
Our engineers custom make your mask frame to fit your face exactly using state of the art 3-D printing technology.
Every mask is cleaned, inspected and tested before we ship it to you.
Comfortably Fits Over Nearly All Mask Types

Doctors and staff at the UCONN medical center wanted a better fitting and safer surgical mask that could closely match the effectiveness of a fitted N95 mask. Under the direction of Dr. Cato Laurencin, graduate students of the CT Convergence Institute for Translation in Regenerative Engineering, developed a "mask frame" that acts as an exoskeleton to be worn outside of a traditional procedure/surgical mask which simultaneously decreases the amount of non-filtered air flow while providing additional comfort. Our Secure Fit face mask frame is custom-made for each user to ensure a comfortable and secure fit.

The frame has been tested extensively and can ensure that anyone wearing the mask with the Secure Fit mask frame can still talk, breathe, and even smile without increasing the amount of air gaps. The Secure Fit mask frame improves the safety and comfort for those who use it and everyone around them.
Please Note:
Secure Fit mask frame does not come with a mask. It is designed to fit over nearly all mask types and is reusable.
After ordering, you will be requested to submit your photos for measurement purposes only.
General warnings:
Not intended for children under 5.
Not intended for people advised not to wear a mask for health concerns.
Not intended for people on medication that may result in vomiting.
Powered by AZEXO Shopify page builder